Great Effect On! 'Eyes, Nose, Cheeks,' Silver Beam 'Metallic Highlighter'
Makeup
0 38
2017.09.05 17:11
Tremendous highlighter items always appear on make-up tutorials of foreign beautubers (an abbreviation of Beauty Youtuber) in the last scene as if they all promised to do so. When they lightly rub their cheeks and noses with a pen brush of the highlighter item, their skin becomes perfect 'as if they turned the lights on their skin.' 'Metallic highlighters' are named because their drastic pearl pigments are similar with glittering metal.   
Korean celebrities have also followed this new trend that sweeps over the whole global beauty industry. For well-defined figures, they show Korean-style metal make-up that highlights their eyes, noses, and cheeks. It is quite wrong if you think this is 'silver hairtail' make-up of the past. This is not simply highlighting make-up that makes your skin look good. If you read articles, you can't help taking out highlighter items shoved in your drawer right away. 
# LOOK 1. Body
Cool Point Make-up 
#BodyMakeUp #GlitteringBeam #MetallicBody
#BodyHighlighter #CoolMakeUp #LegLinePointedMakeUp #BodyCorrectionMakeUp
# LOOK 2. 
Cheeks/Chin
Feminine Glow Make-up
#YooGiAn #Model #BEAUTY+
#GoldPearlEyeShadow #TransparentCheekMakeUp #TransparentBeamChinMakeUp
#MetalGlowHighlighter #MetallicSkin #NudyLip #WetMakeUpTrend
> EDITOR'S PICK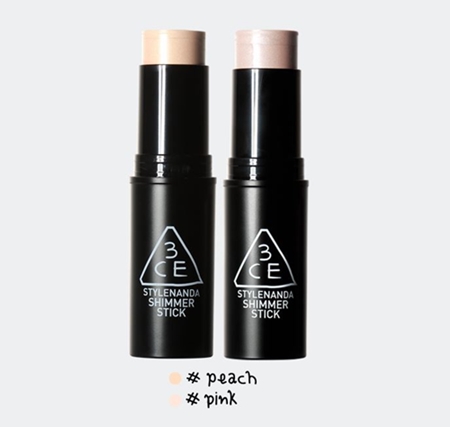 The key point of skin appearance that looks so moisturized regardless angles is a tight cream highlighter item. This highlighter is easy to use by packaging a cream-typed metal highlighter in a stick type. If you want to have gorgeous metal make-up, you need to choose pink color, or if you want to put on natural metal skin make-up, you should choose peach color. The strongest point is that it is very good to use any time before and after your make-up because it is a stick highlighter. However, if you re-apply it to the same part of your face many times, your make-up will be thick. Thus, it is necessary to lightly tap your skin with your fingers in the last step of make-up.
ㆍ3CE 'Shimmer Stick_10g'/ 15,000 KRW
# LOOK 3. Nose
Girl Crush Party Make-up
# LOOK 4. Eye
Gorgeous Night Make-up
[KOWAVE 
Shin Yoon-jung / Pictures = Nikki Instagram, Captured pictures of Youtube, ELLE, BEAUTY+, 3CE, SURE
]
ⓒ KOWAVE, All rights reserved.  
#CelebrityBeauty #BeautyTrend #2017MakeUp #MetalHighlighter #MetallicMakeUp #MetallicSkin #2017F/WMakeUpTrend #BeautuberMakeUp #BeautuberNikki #ModelBeauty #YooGiAn #JungHoYeon #GirlGroupMakeUp #Sunmi #ELLE #Beauty+ #Sure #3CE