'Volume Up' Hair during the Change of Seasons, 'Self-Curling Hair' Tip
Hair Style
0 34
2017.09.08 10:23
If you receive a question saying, 'did you do hair in a hair salon?' from others even though you just dry your hair 'well,' it is a success. An autumn breeze makes your hair tangled in the morning and night, and the hot sunlight beats down the top of your head in the daytime. Thus, it is not easy to keep your well-done hair style from morning to night during the change of seasons. It is time to need natural and ample 'hair volume.' However, it is quite hard to enormously volumize your hair from hair root to the end of the hair only with your know-how. Let me introduce a volumized curling hair styling tip that you can't do with a dryer. 
# STEP 1. Volume Shampoo
'
V
olume of the Top of the Head' Volumized from the Inside 
If you overcome the hot air when drying your hair in every morning to volumize your hair root at the top of the head, but you see your hair being greasy like Han Seok-bong in the mirror while looking in the mirror afternoons after working hard, it is urgent to volumize the top of your head. A solution is a volume shampoo. Beauty beginners and busy workers who have a hard time doing hair styling can keep their natural volume of the top of the head if they shampoo well. It is necessary to check your shampoo's ingredients when you choose it. You should check whether the shampoo volumizes your hair or not and includes harmful ingredients or not and choose appropriate shampoo for your scalp. 
# STEP 2. Hair Mist
Glossy & Moist 'Hair Curling' 
If your hair doesn't tend to be resiliently improved even though you care about your hair, you need to check your hair essence. Let's check whether you use the same hair essence for 365 days a year. Your little habits might ruin your perfect hair styling. It is good to use heavy essence or oil and make your hair oily in the dry weather, but you should use a 'hair mist' that is able to care about your hair lightly during the moist summer or change of seasons and curl your hair. At this time, it is necessary to check the suitable value of oil and moisture to prevent your hair's cuticle from being damaged. If the hair mist has a fragrant smell to prevent the scent of sweat, it is perfect to go for the effect of killing two birds with one stone. 
> EDITOR'S PICK
If you want to make your hair glossy and volumize it at the same time, you need to pay attention to 'brilliant coating' hair mist. This product is a perfect combination of calendula water that lightly moisturizes your hair and makes the inside of the hair moist and Inca oil that makes the surface of the hair glossy. It is perfect to do glossy hair styling by shaking this product to mix oil and water well and spray it to your hair frequently. Its floral chypre musk fragrance is the scent of a mature woman and even a fascinating point.  
ㆍMise en scene 'Blending Mist Serum_100ml' / 13,000 KRW
# STEP 3.Thin Hair iron
Master of Resilient 'Hair Style by Hair iron'   
#HyoMin #Tara #HyoMin'sInstagram @yominnn
#Bodana #BodanaHairStyler #HairStylerCurling #WaveStyling
It is the final perfection of self-volume hair styling. Now, it's time to set your hair. Why is all of the natural and pure hair styling done by 'a hair iron?' Yes, it is natural to say that a standard procedure of natural curling hair styling is done by a hair iron. However, a master of the hair iron is different. The best tip to keep your resilient curl all day long is to use a very thin hair iron. This is because you hair might become a little bit thickly wavy even though your curled hair is straightened over time. Thus, you can have resilient curled hair in the morning and natural wavy hair style at night all day long like a goddess. 
> EDITOR'S PICK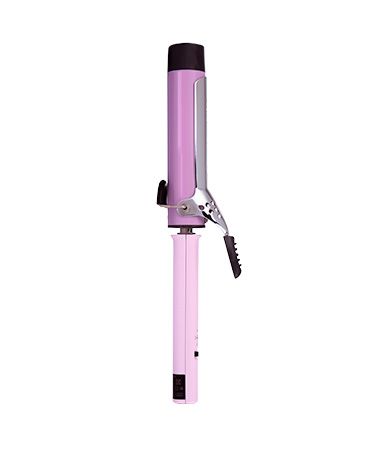 This product is 4mm thinner than other general hair irons and fully optimized to do wavy hair styling. This is equipped with a hot plate that coats special powder to protect cuticle and make one's hair glossy. Also, it rapidly reaches the temperature users want, and consequently, it is good to do hair styling in the busy morning. You can complete voluminous glam wave hair style in the morning and pure wavy hair style afternoons if you touch your hair slightly.
ㆍVodana 'Glam Wave Curling Iron Violet_32㎜' / 82,000 KRW
[
KOWAVE Shin Yoon-jung / Pictures = Instagram of Hyo-min and Seo-hyun, Bodana, Marie Claire, Mise en scene
]
ⓒ KOWAVE, all rights reserved 
#CelebrityBeauty #FemaleHairStyling #HairStyle #SeasonChangeHairStyling #HairStylingBasicTip #HyoMin #SeoHyun #RyooHyeYeong #Vodana # MiseEnScene