[The Bride of Habaek]

Acting Idols Come Back ③ - 'The Perfection of a Chic Woman,' Crystal, 'Full Color Goddess Dress Look'

A tvN Drama, <The Bride of Habaek 2017>, spinning off from a famous comic book, 'The Bride of Habaek,' had been popular since its first broadcast. This is a fantasy romantic comedy drama starring Nam Joo-hyuk who played a role of the god of water and came to the world of human beings and Shin Se-kyung who played a role of a female doctor and showing their master-servant relationship. Thus, it had been much loved by viewers. 

There is the third main character of 'Acting Idols Come Back,' among acting casts of this drama. The character is Crystal from F(x) who is known as 'the perfection of a chic woman.' She is a veteran actress who has already proved her acting skill on various dramas. Also, the drama was over, and she renewed the best work in her life. She played the chic and prettiest goddess in the world on the drama and showed off her great acting skill as if she had worn the most right clothes.  




*Spin-off Work: To make a new story based on characters or settings from the existing movies, dramas, books, and other media contents.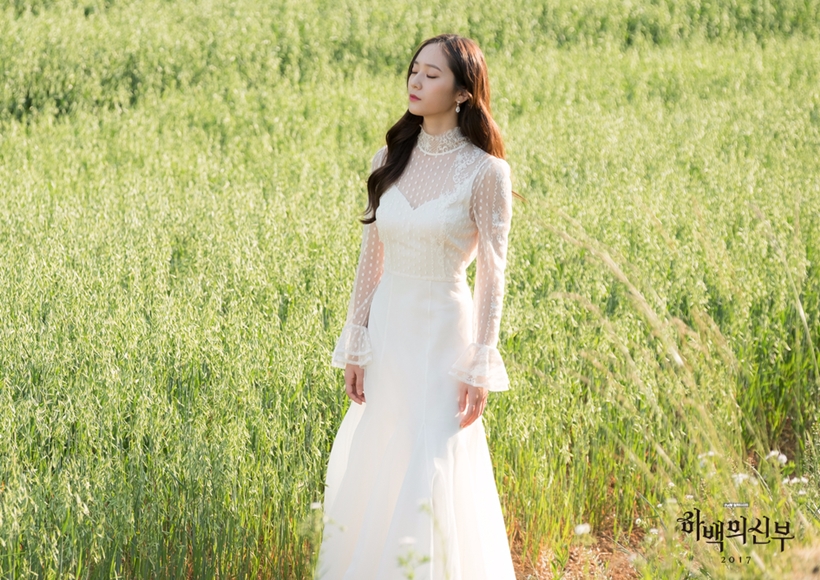 On the drama, <The Bride of Habaek 2017>, Crystal played 'Moo-ra' who is a top actress and water goddess living among human beings for hundreds of years and showed her chic acting skill. As the most eye-catching goddess who shows off the prettiest appearance both in the world of God and human beings, she was wearing drastically-designed colorful and dressy fashion items. The perfection of a gorgeous goddess look! Let's take a close look at Moo-ra's colored look on the drama. 
# LOOK 1. Romantic Chic
Blue One Shoulder Dress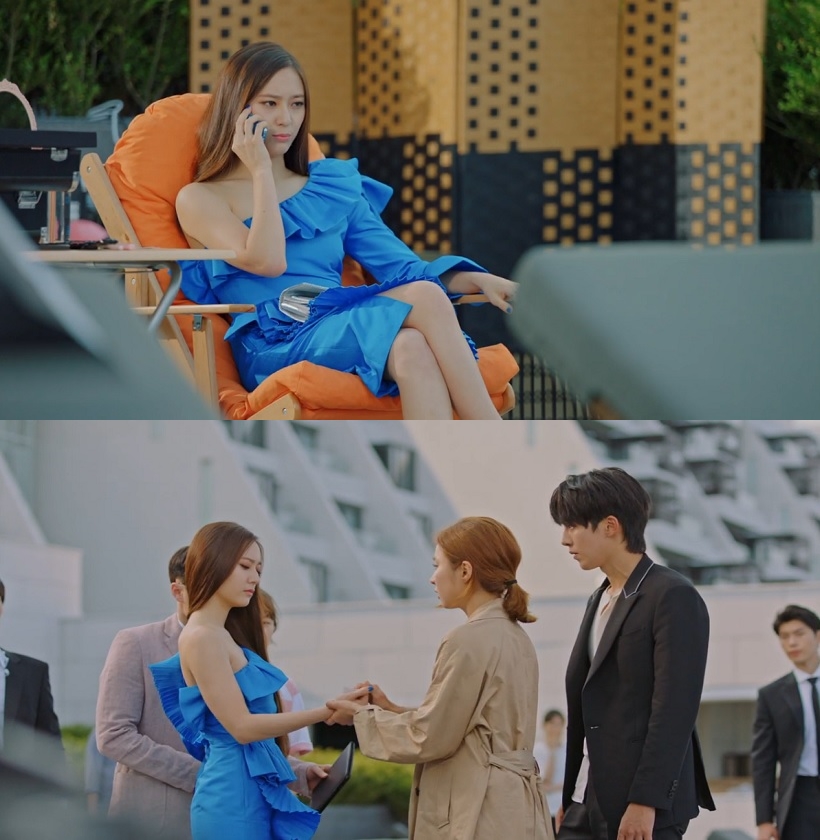 On the third episode of <The Bride of Habaek 2017>, she appeared for the first time and made a strong impression. She proved her chic appearance without the hint of a smile by wearing a cool blue color one-shoulder dress with ruffle details. She drastically exposed her right shoulder and maximized her own feminineness with fancy ruffle details extending from her left shoulder to a waist line. This one-color goddess look highlights her white skin color much more and looks so dignified. 
If you want to enjoy blue color items for feminine daily look, you'd better to choose a long-length and waistline-emphasized one-piece dress. This item is able to complete easy look and dressy look by adjusting a fixed strap on the waistline. If you want to emphasize a little bit more feminine mood, you can tie a neckline with a ribbon and make it look like ruffle details. 
ㆍFOURM 1/4 STUDIO 'Waist Drawstring Silk Dress' / 725,000 KRW 
# LOOK 2. Cutie Feminine
Red Square Neck Dress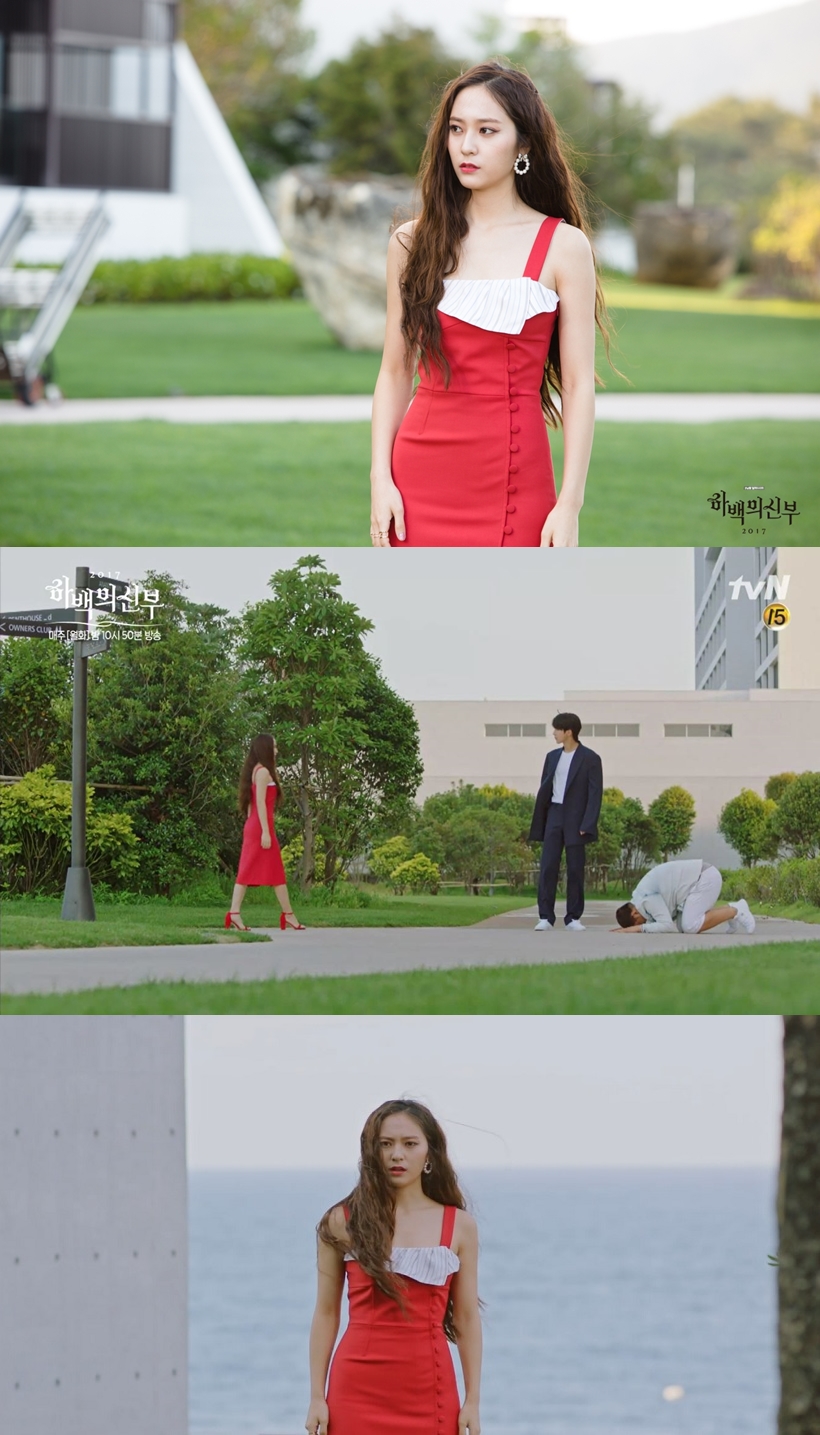 The best styling that improved her beautiful face appeared on the 4th episode of the drama. On the drama, she showed strong red look for shooting a pictorial. Stripe ruffle details on the bust line and buttons were added on this dress, but the red silk one-piece dress tightly wrapping her body was so eye-catching and highlighted her slim body. For this, she did red lip point make-up and completed elegant goddess look. If you want to have full-red look like Crystal in real life this autumn, you need to gently put a black blazer or leather outer on your shoulders and complete red point look. 
[
KOWAVE Seo Sang-hee / Pictures = Official Homepage and Captured Screen of a tvN drama, <The Bride of Habaek 2017>, Gabriela Hearst, and FOURM 1/4 STUDIO
]
ⓒ KOWAVE, All rights reserved.   
#DramaFashion #TVFashionTrend #TheBrideofHabaek #FantasyRomanticComedy #Crystal #JungSooJung #GoddessLook #GoddessOnePieceDress #OneColorDress #RuffleOnePieceDress #OffShoulderOnePieceDress # GABRIELAHEARST #FOURM1/4STUDIO