'Much Prettier' Women with a Long Neck, Slim Fit 'NEW Feminine Neckline' ② – Special
Clothes
0 37
2017.09.05 17:05
In one special day when you want to naturally look sexy without any heavily-loaded accessories, let's expose your cleavage almost invisibly. Whenever you move your neck, all eyes are fixed on you. Let me introduce A to Z of a new feminine & glossy mood neckline that highlights a collarbone and cleavage that is a symbol of the sensuality. 
# LOOK 1.

 

 
Squre + Cleavage V Neck 
#SquareNeckXCleavageVNeck #CorsetDress
#VintageMood #CleavageVNeckTransformationLook
# LOOK 2.

 
 Deep Round + Deep V Neck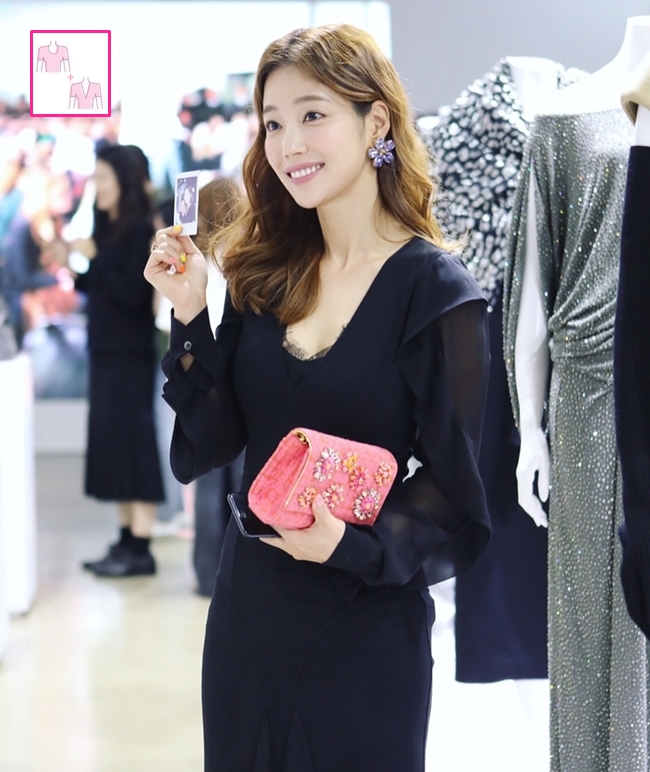 #KiEunSe #Actress #FashionInfluencer @kieunse
#DeepVNeckXDeepRoundNeck #BlackDress #SeeThroughSleeves #PinkClutch
#GorgeousMood #DeepRoundNeckTransformationLook
# LOOK 3. 
 Cleavage V Neck 
#GirlCrushMood #CleavageVNeckTopLook
> EDITOR'S PICK
This is a jumpsuit with a square neck-transformed design including square neck and round neck details. Its lace details on the cleavage line make it look so feminine. It is possible to complete gorgeous career woman's look by wearing it with simple shirts or T-shirts or sensual girl crush look by putting on this suit only. When the weather becomes chilly, you can complete autumn fashionable look if you wear an unisex-styled over-sized leather jacket of blazer.  
ㆍDYS 'Emily Jumpsuit Navy Stripe' / 276,000 KRW 
[KOWAVE 
Ra Ru-bi / Pictures = Instagram of Ki Eun-se and Hwang-bo, Singles, DYS
]
ⓒ KOWAVE, All rights reserved.   
#FemaleCelebrityFashion #CelebrityFashion #ModelFashion #SingerFashion #SNSFashion #BoatNeck #DeepRoundNeck #SquareNeck #CleavageVNeck #KimJinKyung #KangChoWon #SonDamBi #KimSaRang #HwangBo #KiEunSe #DYS