[STREET FASHION]

'Hold the end of this night!' 'T.P.O Night Out' Look of Handsome Men who don't Want to Sleep - MAN

Men's Fashion

0 27

2017.09.08 17:03

Even though their limbs feels heavy and tired, these men are so vigorous enough to hang out more. Let's take a look at fashion look of the men who have a short phone call with their friends to say 'what are you doing now? Just come out!" and hurriedly run out. I don't care about whether they are wearing pajamas or clothes for going out! They look so great even though they are wearing very casual shirts and slippers. Let me introduce enjoyable 'Night Out Look' of handsome men who walk down the streets at night because they are young, feel excited, and don't want to go to bed.  




 

# LOOK 1. 

 

STREET FASHION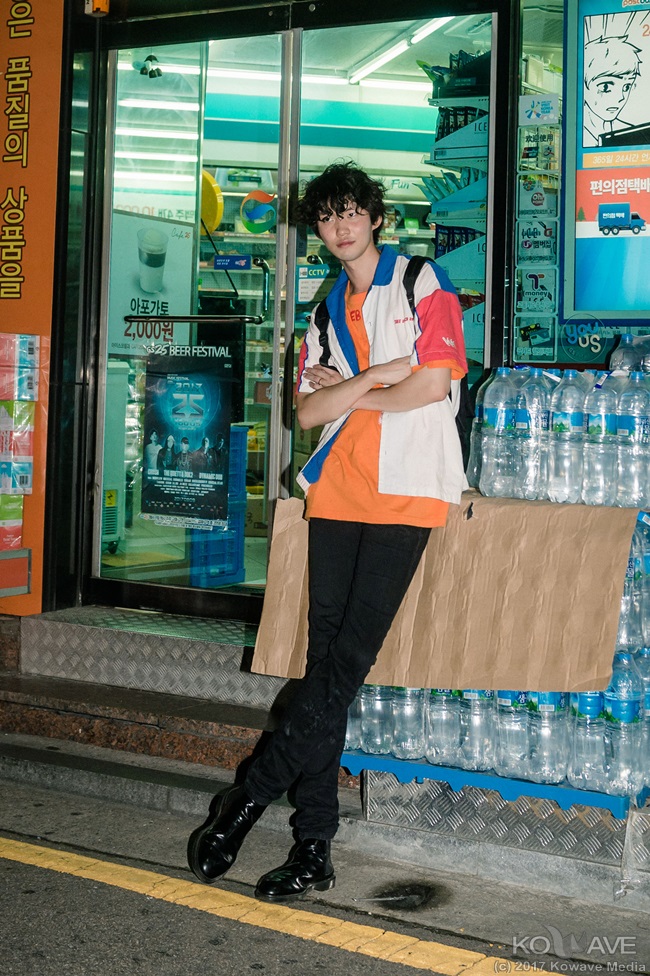 P(lace) – In front of a convenient store  
O(ccasion) – 
Waiting for his friend to drink a bottle of beer 
"It's too bad to go back home right now. Let's enjoy more."
This man was wearing unbuttoned shirts, colorful T-shirts, and casual half shirts and showed cute night out fashion style. In fact, he was Seo Woo who is a model and was on his way to go back home after work. He called one of his neighbors up by phone at night when he uncertainly got drunk. He felt so excited to drink one more bottle of beer with his friend in front of a convenient store. 
#StreetFashion #ModelStreetFashion
#OrangeColorTShirts #HalfSleevesCasualShirts #ColorBlockHalfShirts #BlackPants
#CasualStreetLook #ConvenientStoreGoOutLook
P(lace) – In front of his girlfriend's home 
O(ccasion) – On his way to go to a theater to watch a movie at night 
"When are you going to come out because there are only a few minutes before the movie?"
Lee Tae-gil, who is a model, was waiting for his girlfriend in front of her home in order to watch a movie. He said that he felt a little bit shame because he was wearing too casual clothes as if he ran hurriedly. However, I thought he looked so good. Even though he was wearing loose-fit shirts with long cuffs and platform slippers, his perfect figure made his look so stylish. I felt so envious of his easy look that made him look sexier because he didn't dress up much. 
#StreetFashion #ModelStreetFashion
#LongWideCuffsShirts #LetteringDetail #WidePants #PlatformSlippers
#NightEasyLook #TheaterGoOutLook
P(lace) – Nearby a bus stop in downtown streets    
O(ccasion) – On his way back to home after a fabulous night 
"OMG! I hung out until tomorrow morning. Where is one of my sleeves?..."
Early in the morning, I met an emperor of night who left a trace of 'entertainment of last night,' in his sleeves and came out in the street. He was wearing rolled-up pants, blue socks, and sexy shirts that exposed his abs a little bit. These seductive details made him look like a very sexy European man. However, why? Why did my eyes focus on a tired face of this man who drastically tore off one of his sleeves (or someone tore it off somewhere) and stopped in this street? OMG! I just admitted his dignified fashionable pose.  
#GlobalStreetFashion #Men'sStreetFashion #MilanoStreetFashion
#UnbalancedSleevesShirts #RolledUpNavyPants #BlueColorSocks #WhiteSneakers
#UniqueNightLook
[KOWAVE 
Kang Tae-hee hee0123@kowave.kr / Pictures = KOWAVE DIGITAL MIDEA TEAM, Jo Sung-joon photographer, TOPTEN, HEICH BLADE
]
ⓒ KOWAVE, All rights reserved.   
#GlobalStreetFashion #MilanoStreetFashion #MilanoMen'sWearWeek #StreetFashion #NightStreetFashion #NightOutFashion #ConvenientStoreFashion #TheaterFashion #CasualNightOutFashion #NightCasualLook #CasualShirts #ShirtsLayered #WideCuffsShirts #ModelStreetFa