'Bright Red' Woman, 2017 FW Key Color 'Red Power'
Clothes
0 49
2017.09.12 10:45
The fall season arrives. It's time to color our wardrobes in autumn colors. Pantone, which is a global color research institute, has announced 2017 fall and winter colors. Compared to tone-downed colors of last year such as burgundy, brown, and khaki, the key color of the F/W season this year is 'red.' Red color has been already sweeping throughout F/W season fashion week held in Milano, New York, Paris, and Seoul. 
Let's get into the fresh 'red' wave like a red-cheeked apple of which you want to take a bite. There are limitless things to enjoy from one point look to full red look. However, the essence of 'red power' in this season is 'full red' look. Thus, you'd be better to become more drastic. 
# LOOK 1.

 
Small Point Look 
Balloon Puff X Top Check One-Piece Dress 
#HanYeSeul #HanYeSeul'sInstagram @han_ye_seul
#BalloonPuffRedShirts #VNeckShirtsOnePieceDress #LaceUpShoes #ShortHair
#RedColorLook #FascinatingAutumnRedLook
# LOOK 2.

 
Half Point Look
Lace Long Skirt X White Shirts 
#LaceRedSkirt #WhiteShirts #RedStilettoHeels #HalfBag
#RedLuxuryLook #RedHalfPointLook
> EDITOR'S PICK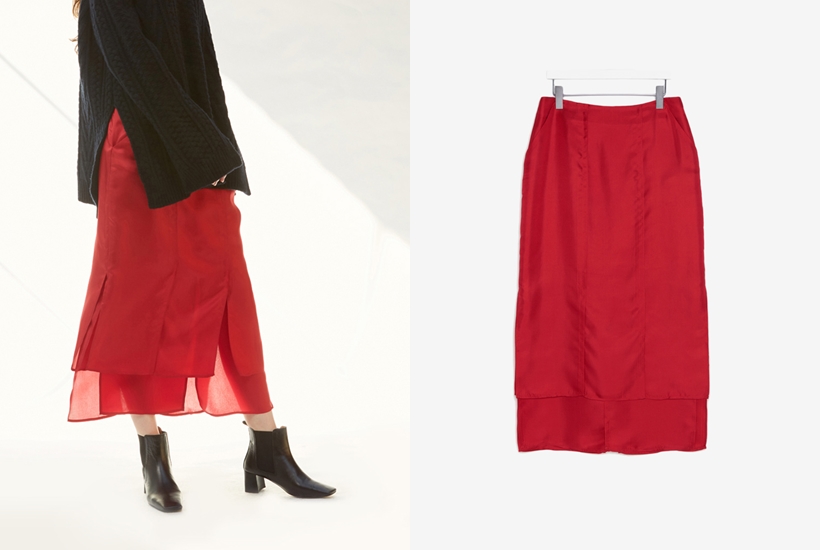 If you want to properly enjoy red color this season, you need to skip any details and consider color only. A bright red silk medium-length skirt might be the best choice. This item is made of gleaming polished silk fabric by doubly layering it. Thus, it looks so gorgeous at any angle. Also, its slit details make this skirt look more dramatic when you move. Let's put on the essence of red color this autumn. 
ㆍRECTO '17FW Silk Layered Skirt_Red' / 286,000 KRW 
# LOOK 4. Full Red Look
Red X Red X Red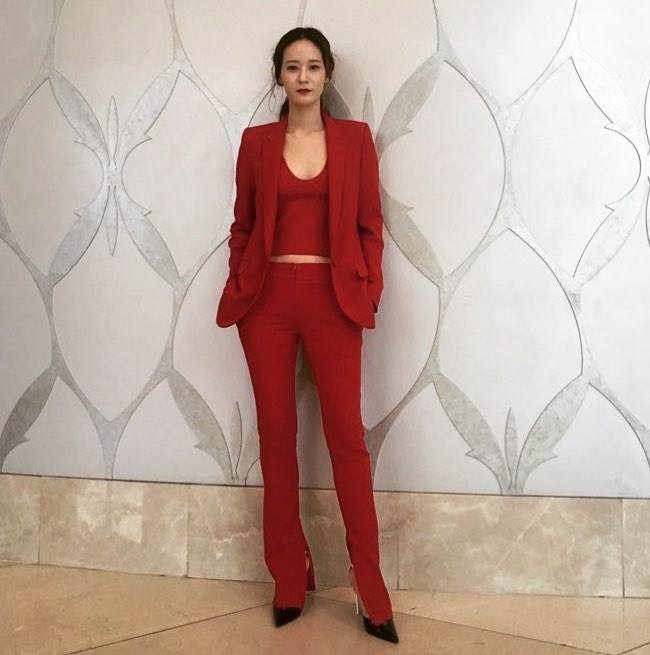 #LeeYoungJin #TopModel'sDailyLook #LeeYoungJin'sInstagram @rieyz
#RedCroppedVNeckTop #RedSuit #BlackStilettoHeels
#FullRedLook #2017AutumnRedLook
[KOWAVE 
Ra Ru-bi / Pictures = Instagram of Han Ye-seul, Kim Hee-sun, Lee Young-jin, and Song Hae-na
]
ⓒ KOWAVE, all rights reserved. 
#2017FWTrend #2017FWFashion #PantoneAutumnColor #Red #RedFashion #RedClothes #HanYeSeul #KimHeeSun #LeeYoungJin #SongHaeNa