Necessary Items for 'Cuteness,' 'Pierce' Look of Girl Groups by Zone
Accessory
0 65
2017.09.13 10:08
In early 2000s, piercings were products that were monopolized by female gangsters. Temporarily, piercing items of several beautiful actresses such as Shin Min-a, Lee Hyo-ri, and Gong Hyo-jin were as popular as some piercing shops created 'a piercing zone of Shin Min-a' among various zones of ears to pierce. However, it is the era of girl groups' piercing parts.  
Compared to the past when people exposed their sexy parts by wearing simple ball ear piercings, there are recently a lot of fascinating items by zone in ears and design. The new emerging force of ear piercings is a Korean girl group, 'Twice.' Members of Twice have put on perfect ear piercings that are really suitable for their appearance and zones in their ears and showed off their own unique look. Let's fall into 'tingling' charms of ear piercings like a song of Twice. 
*Pierce : a common name of earrings that are put on pierced ear parts. 
# LOOK 1.

 Natural
Ear Lobes X Twin Pierces  
#EarLobesXTwinPierces #NaturalPiercing #BasicPiercing
> EDITOR'S PICK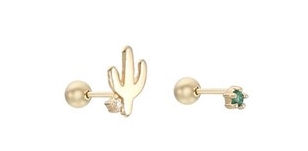 The most common design of twin pierces is a cubic. Similarly but differently-designed twin pierces might make you look so cute. A seasonless cactus item and green cubic piercing seem to look great on any clothes. These items are highly recommended for piercing beginners because they are so basic and simple. 
ㆍLLOYD 'LPTG4052T'/ 49,900 KRW
# LOOK 2.

 Feminine
FTragus ∙ Ear Lobes X Cubic Pierce  
#PearlPierces #CubicPierces
#TragusEarLobesXCubicPierce #FemininePiercing
[
Kang Tae-hee hee0123@kowave.kr / Source Researcher Shin Yoon-jung / Pictures = JYP Entertainment, Lloyd, Captured Screen of Music Videos of Twice's 'Signal and Cheer Up' Songs, Twice's Instagram
]
ⓒ KOWAVE, all rights reserved
#FashionAccessory #Pierce #PiercebyZone #GirlGroups'Pierce #TwicePierce #TheNewForceofPierce #EarLobes'Pierce #TwinPierces #PiercesAtTheEndOfEarLobes #RingPierce #Pure&Lovely #TragusPiercing #CartillagePiercing #Twice #JeongYeon #NaYeon #Tzuyu #Lloyd