[STREET FASHION]

'Between Summer and Autumn,' Fashion Beginner's 'Too Much White Look' – MAN

Men's Fashion

0 31

2017.09.14 10:20

This is too much look of men who wanted to become perverse at the end of summer. They controlled their fashion styling with white clothes by themselves, but they wrapped various colors, patterns, and details round their whole bodies.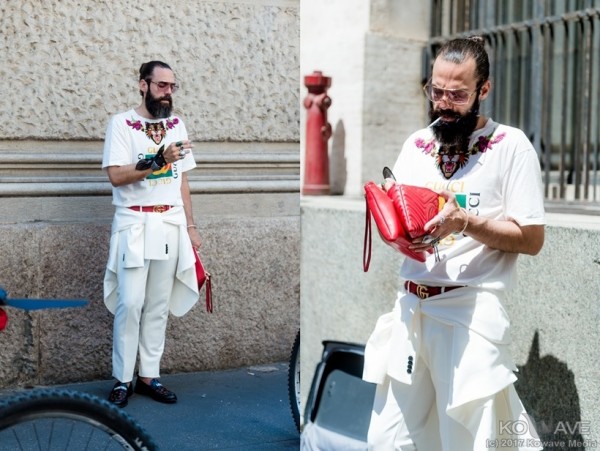 This is just 'geek-like' look! There was no a compromise of his today's look with a cigarette, embroidery, logo, and printed detail. A retro T-shirts inspired by a vintage logo of Gucci in the 1980s had very intense flower applique and tiger-printed details, and hence, he looked matchless without any tattoo on his body. This Italian guy harmonized simple white color and retro 'too much look.' 
▶ Styling Minus Suggestion: Rings and Cigarette -> "I highly recommend you stop smocking for your health."
#MilanoMen'sWear #18S/S #GlobalFashionWeek #ForeignStreetFashion
#GucciTShirts #RedClutchBag #GucciVintageLogo #FlowerApplique #TigerPrintedDetail
# LOOK 2.
Celeb's STYLE & RUNWAY
Arousing tattoo and freewheeling graphic works like street graffiti were emboidered on a formal outer. This is mix and match 'too much look' on a runway for the 2017 F/W Hyera Seoul Fashion Week. This fashion look harmonized with a defiant attitude of a top model, 'Park Seong-jin' was selected as signature look of this runway. A pull-over top made of flannel and formal slacks made the funky outer look calm and gentle. 
▶ Styling Minus Suggestion: Nothing
#ParkSeongJin #TopModel #Customellow #17F/W #Mmm
#RunWayLook #GraphicPringtingCoat #NomcoreXTooMuchLook #MixAndMatch
# LOOK 3.
STREET FASHION
Lee Shi-oh / 27 years old / Model / @kk_wvv
He has eye-catching red hair style from afar. He was wearing indigo color jeans and white shirts. Even though his fashion looked very simple, there were various unique details included in his clothes. Logo lettering details clinging to the end of his sleeves like a belt seemed very unique, and this item was designed and produced by a unisex brand, 'KYIMER,' that his girlfriend has operated as an owner and designer. He said that she sought to design freely-deformable clothes for people to be able to wear them in more than two different ways only with a single item. It is worthy of attention from strong fashion followers longing for the freewheelingness and uniqueness this season. 
▶ Styling Minus Suggestion: Sunglasses -> Please let us see your kind eyes like a deer. 
#StreetFashion #WhiteShirts #OverSizedShirts #BeltDetail
#FunkLook #KYIMER #UnisexBrand 
[
KOWAVE Park Yeo-jin / Pictures = Pictures = KOWAVE DIGITAL MEDIA TEAM, Jo Sung-joon photographer, Seoul Fashion Week, Customellow
]
ⓒ KOWAVE, All rights reserved.   
#StreetFashion #MilanoMen'sWear #GlobalFashionWeek #TooMuchLook #MixAndMatch #Gucci #Customellow #ParkSeongJin #KYIER