Pantone has chosen the color of the year 2017! We already met its color by Italian street fashion and their color play. It is time to find Pantone color in Seoul not from fashion people in Sinsadong but in the very small bookstore. Task book shop where you can see every street in Europe has things to see and you can find Pantone color there.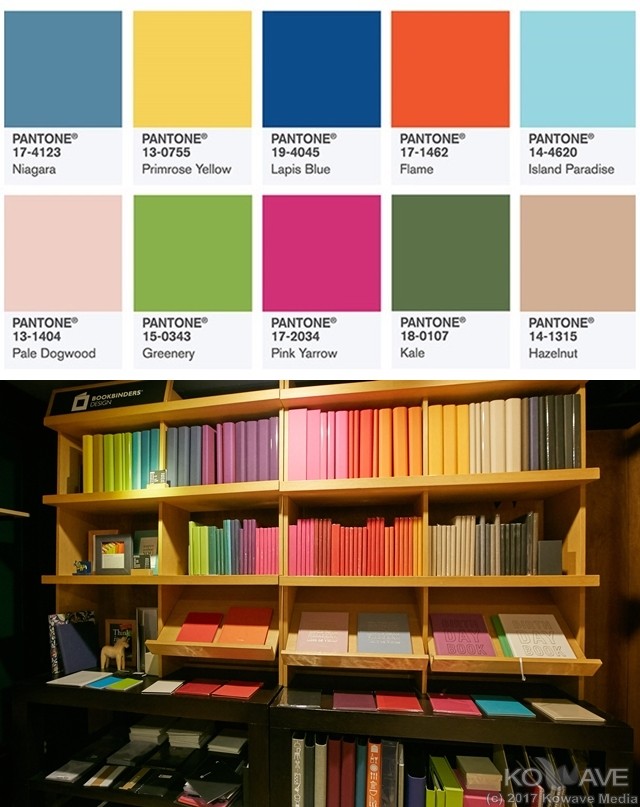 1. To enter :  Lapis Blue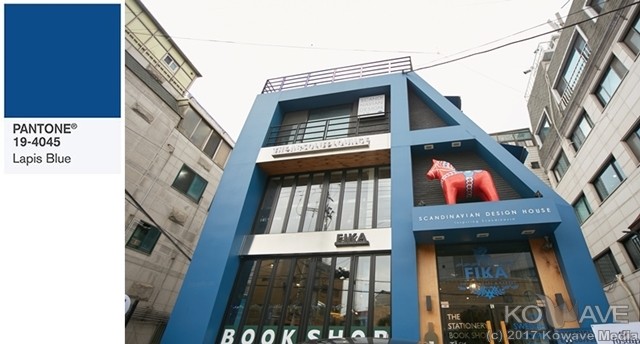 It is not easy to go find 'Task bookshop' in garosugil, because they have no sign, so you should find a shape of red dala horse which is the symbol of Sweden. Task bookshop is located with 'Scandinavian design house' where they have interior pieces of northern European style, a café and bookstore.    
#Sinsadong #Garosugil #Scandinavian_design_house #FIKA
#Bookshop #Bookstore #Smallsizedbookstore #Taskbookshop 
#Pantone #Lapisblue #Blue
 2. To go down:  Kale
Open the front door on the first floor and go down. The Yellow light looks warm welcoming under the floor. BIBLIOTEK means a 'library' by Denmark•Norwegian language. 
#Serosugil #Undergroundshoppingcenter #Thebuildingofsemibasement #Smallsizedbookstore
#Taskbibliotek 
#Pantonecolor #Kale #Green #Greencolor
 3. Took look around :   All colors in the world
Task bookshop started a small sized stationery 10 years ago. It is now not the stationery, but artists and fashion people still visit here, taking break. They sells not only art, architecture, design, pictures, traveling books, foreign unique magazines and books from northern Europe, even but their stories. 
#BookstoresinEurope #Smallsizedbookstore #BooksfromNortherneurope 
#Foreignmagazine
 4. To see : Greenery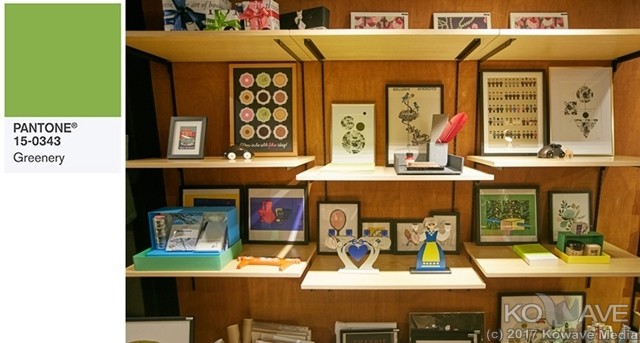 You can see not only books but design stationery and stuffs from northern Europe.
#Northerneuropeaninteriorpieces #Designstationery 
#Thecoloroftheyear2017 #Greenery
  5. . To read :  Primrose Yellow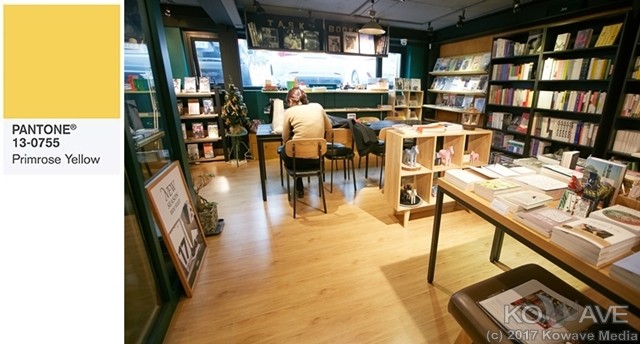 Let's read a book that you like the most on the long table. There are some books putting a bookmark with a shape of dala horse. It means 'Task bookshop' recommends you to read, reflecting the spirit of garosugil. Depending on your mood and feeling, you can pick a book in the reading corners for themes and enjoy a cup of coffee on the first floor in FIKA. You don't need to worry and think a lot just stay there.    
#FIKA #Thewayofenjoyingswedencoffeetime 
#Pantonecolor #Primroseyellow #Yellowcolor 
  6. To touch : Pink Yarrow, Fale Dogwood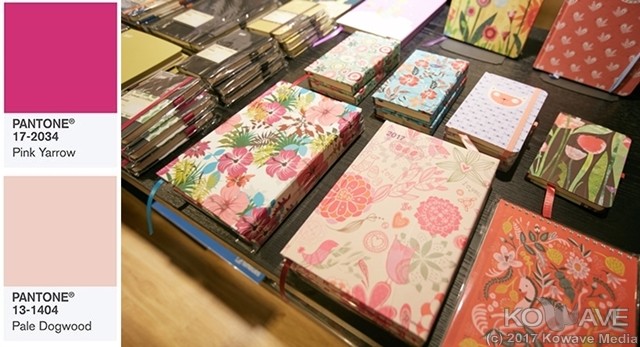 This designer diary is the best seller. Its illustration and vivid color reflect designers' own sensibility.
#Diary #Theyear2017 #Designstationery 
#Pantonepicks #Pinkyarrow #Faledogwood
  7. To hide :   Hazelnut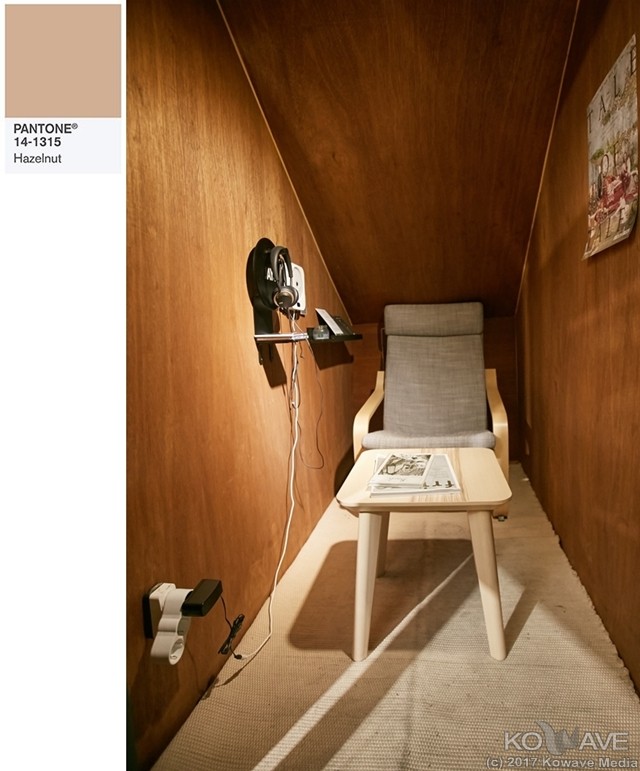 When you don't want to get interrupted by anyone, this personal reading room will be the answer. Join a membership of Task bookshop and make a reservation of a reading room and then it is yours! Any one can't disturb you. You just enjoy reading books and listening music. There is no one to force you to do something even you fall asleep for a while. You can only focus on you as if you hide far from the world. It is a must for you. 
#Garret #Personalreadingroom #JAYSheadset 
#Thecoloroftheyear2017 #Hazelnut
  8. To take a break :  Niagara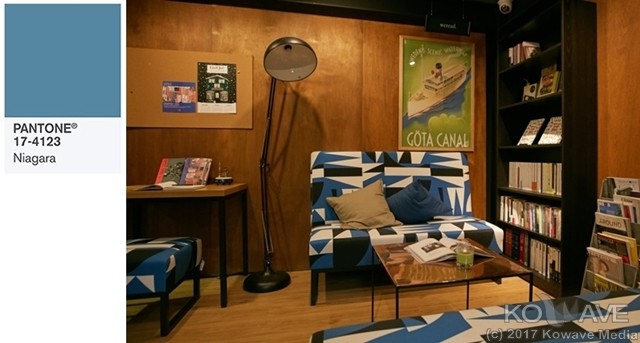 Big sized bookstores are also good, but sometimes it is good to visit 'Task bookshop' on purpose. You might feel shy because the owner already get know your taste. That is why you feel better. When you miss traveling in Europe or desire to travel, I recommend you to visit here instead of going to airport. To look around, read, touch, hind and take break gets you inspired in your daily life. 
• Address Apgujeongro 14gil 30 Scandinavian design house B1, Gangnamgu, Seoul 
• Tel  82-2-516-1155
• Website facebook.com/taskbookshop
            instagram.com/taskbookshop
[
KOWAVE PARK YEO JIN shasha127@kowave.kr / PHOTO=
KOWAVE DIGITAL MEDIA TEAM,
panton]
ⓒ KOWAVE, All Rights Reserved.