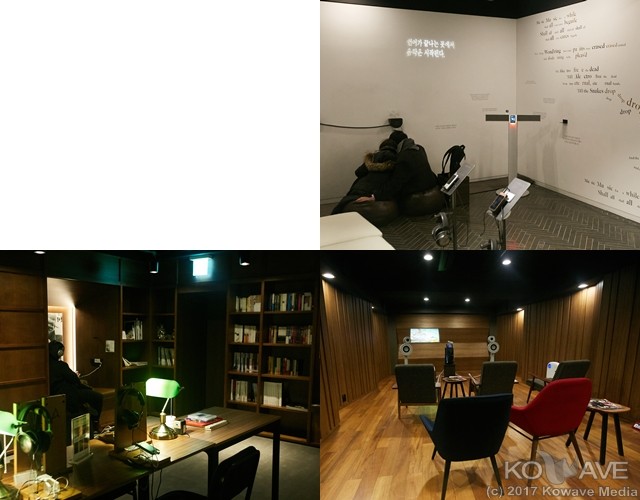 It is good to sit down on a comfortable sofa lean against your loved one's shoulder or hide your body in a hollow closet and be lost in your own music world. Or, you can just give yourself to a strong vibration of music through sounds of a high-quality speaker in a music room. It's up to your taste. It is okay that you don't know a song title, artist's name, album, and speaker's model. In Stradeum, it is enough to be overwhelmed by music waves and experience them with every fiber of your body. The most important thing in music is not documented in sheet music.
If you are a beginner who is fearful of swimming in the sea, you need to listen to an explanation of music curators. The music curators residing in Stradeum are a friendly music teacher. They do their best on selecting suitable music for a time zone, theme, and season such as 'Good Music for a Rainy Day,' 'Blues Music in a Jazz Bar,' and others and even on recommending music and playing your song request. Therefore, let's come up to them without hesitation. When you need a break time, let's go up to the top. You can taste delicious coffee in a rooftop lounge café in the fourth floor and sit in a terrace and enjoy your freedom in bright sunshine. Stradeum also has music souvenirs and great albums carefully selected by the café, so let's meet them all in the café.
There is no clock in Stradeum. Even though there is a clock, no one sees it. Time has slowly passed when you ask yourself a question, 'Was I too busy to spend time to comfortably listen to music?' Whenever an answer of the question is earnest, and you need to be consoled by music, you would like to intentionally visit to the space, Stradeum. Stradeum will be open in Beijing, China and Tokyo, Japan soon. This is definitely a good news for people who really want to have their own music hideout. What a relief that music exists in the world and there are lots of good music.
• Address                Stradeum Building, 251, Itaewonno, Yongsan-gu, Seoul
• Inquiry                 82-2-3019-7500
• Website                http://www.stradeum.com
• Entrance Fee          10,000 KRW (include beverages in a rooftop café and available for Stradeum curation programs)