There is one rule of people who know how to have fun in Seoul. It is that they usually go to Itaewon to hang out, but they go to Hannam-dong to rest.
In Hannam-dong where it is just one step away from enthusiastic Itaewon, there are really delicious coffee, quiet music, and celebrities' hidden hideouts that fashionistas in Seoul enjoy. Let's get into black & white modern Hannam-dong in order to enjoy ordinary coffee and music more specially.
 WHITE : Old Space, New Coffee  – Anthracite Hannam
This is not a derelict building. Also, it is not a building under construction. We can just guess 'this is a space to brew coffee,' through a window because there is no sign. 'Anthracite' is a roastery café with tracks of time remained in a space. A white and old building of 'Anthracite' between magnificent and luxurious buildings in Hannam-dong looks unfamiliar and eye-catching.
This café totally catches trend setters due to its coffee as well as the unique and refined mood. A yellow coffee bar made of euro forms that are usually found in a construction site looks so vintage, and the café's ceiling and walls look shabby. Anthracite gives a fresh breath of life to the area that has been forgotten and unsought through coffee. Plants grow, and music plays in a large place with a lot of empty spaces. It looks like a small jungle in a city or a desolate construction site. Many people freely sit, listen to music, and enjoy coffee here. Sounds of a coffee beans grinder and people's voices with classic and jazz melodies mingle together and vitalize the mood. Even though it is intended or not, indifferent but natural air in the café fascinates fashionistas in Seoul who love unique styles.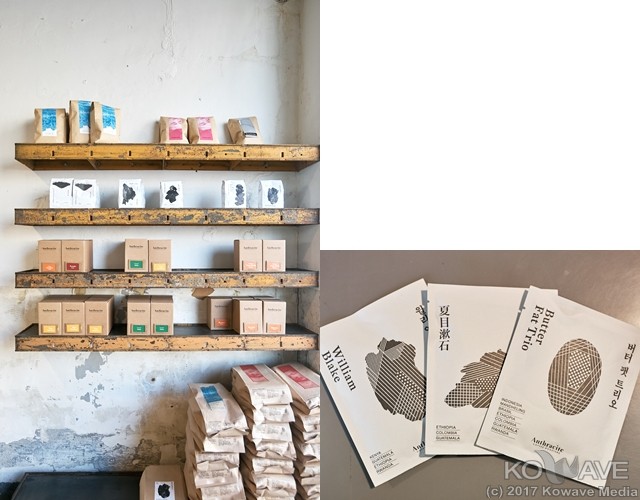 There are diverse methods to enjoy coffee in Anthracite. Anthracite provides espresso coffee extracted from a machine and hand drip coffee using fresh coffee beans roasted every day and even brewed coffee using a drip bag. Directly-blended coffee beans are popular more than single origin.
'Natsume Soseki' which has a heavy texture of coffee from Central and South America and a luxurious flavor of Africa is the best menu in Anthracite. It is recommended to enjoy hand-drip coffee that a professional barista makes. 'Butter Fat Trio Ale' which is coffee beer that is as strong as espresso and as soft as jazz is also popular. 'Butter Fat Trio' which harmoniously includes a rich taste, scent, and body of coffee beans from five producing areas in a cup of coffee is perfect when it is mixed with milk like Cappuccino or blended with beer.
Everyone dreams of a hideout. They want to spend never-lonely time with coffee in a rough but cozy space even though they are alone. Also, they want to become a quiet friend with the view of Seoul seen through an old window in the space. Anthracite will be your coffee hideout.
• Address          1 ~ 3F, 240, Itaewonno, Yongsan-gu, Seoul, Anthracite Coffee Roaster Hannam
• Inquiry           82-2-797-7009
• Website         www.anthracitecoffee.com
[
KOWAVE PARK YEO JIN shasha127@kowave.kr / Photo= 
Kowave Media Team]
ⓒ KOWAVE, All Rights Reserved.